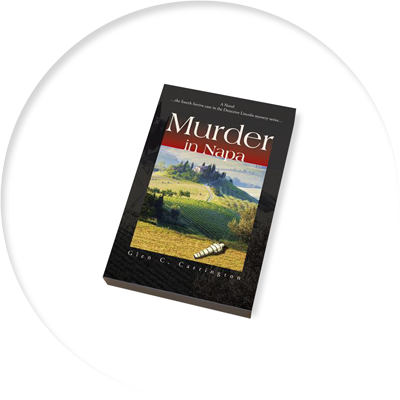 Published:  5/14/2014
Format:  Softcover • Hardcover • E-book
Pages:  458  |  Size:  6×9
ISBN:  978-1-49690-724-0

Murder in Napa – Book Four
The novel is about the murder of Dr. Clarence Watson, a wealthy, distinguished, San Francisco psychiatrist who was found murdered at the estate of his friend, another affluent celebrity status psychiatrist, in the wine country of Napa.  The body was found on the living room coffee table completely wrapped in white latex, giving the image of an alien being or a gigantic condom.  What's going on?
The Napa Police force is not well experienced in murders due to the low crime rate and even less so in involvement with high profile cases.  Because the body was found in the home of the esteemed psychiatrist Dr. Bates, the physician automatically calls Detective William Monroe Lincoln to get him involved since Dr. Bates had worked on an earlier case with Detective Lincoln, providing requested psychological data to quickly determine the mental status of a criminal holding hostages in an extremely fast moving and precarious situation.
The Watson family wants to know who the murderer is and the investigation quickly determines there are several paths of inquiry.  The deceased had a unique personality and his sexuality becomes a factor; was Dr. Watson gay? 
An extremely sexual and voluptuous woman named 'Lolita' was Dr. Watson's patient and ex-patient; and, an unusual relationship follows.  The woman is difficult to reach at times but once engaged, she is extremely interesting. What is this about?
Dr. Watson's patient list has one client who is potentially dangerous, homophobic, and has violence in his background.  With the deceased's behavior becoming more sexually chaotic, was this a catalyst putting Dr. Watson's patient on the suspect list?
His ex-wife was now dating a union man who despised the ex-husband and the feelings between the two men were of strong mutual disrespect.  Is he a suspect? 
Later, another vicious murder of a gay man close to the Mayor of San Francisco, who happened to be the first gay Mayor of the famous Bay City, brings another investigation and Detective Lincoln tries to determine if there's any link between the two murders.
The various characters spanning many social circles keep the detective guessing; and with certain dangers lurking, Detective Lincoln again calls upon his unique friend, Lenny McDerch, to help protect him.  The landscape is the beautiful Bay Area where Detective Lincoln once before sought out those responsible for murder!