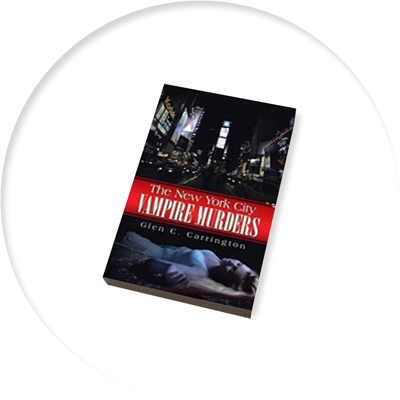 Published:  5/31/2016
Format:  Softcover • Hardcover • E-book
Pages:  444 |  Size:  6×9
ISBN:  978-1-52461-060-9
Print Type:  B/W

The New York City Vampire Murders – Book Five
The novel is about the series of eerie and bizarre homicides discovered in New York City where the police find corpses where the blood has been sucked out of the bodies through two neck bite marks suggesting a vampire attack.  With six bodies discovered in six months, was this the work of a supernatural being running around the historic and irreplaceable America's largest metropolitan super city… The Big Apple…or someone or something trying to make it look like a vampire attack? 
After six months, the New York City Mayor decides to bring in more professional help to aide his Investigations Unit in solving these heinous crimes.  For the last six months, the Mayor has successfully suppressed these horrific criminalities from the public, but his time is running out and once this knowledge hits the public airwaves the City will go into panic mode; his job will be at stake.  The good citizens want safety and will direct their anger and angst at those elected to protect them…and he would be the recipient of their tirade. 
The Mayor finally decides to bring in Detective William Monroe Lincoln, a retired detective with high profile case experience.  The New York City Investigations Unit is against bringing in outside help but they have no choice due to the dire circumstances of sitting on an explosive story with so many bodies that have died in such a unique and disturbing manner.  They too know that time is running out in trying to keep these crimes hidden from the public.  If the top City Administrator is voted out of office the top Police Department administrators are also vulnerable to job security. 
The various characters and bizarre circumstances of the murders reveals very few clues to help reveal the perpetrator of this evil.  With no help in sight, suddenly there is a telephone call by an individual saying he's the 'Vampire Killer', but this individual is suffering from severe dementia and barely knows who he is.  Is he a real clue or just another irrelevant piece of information designed to mislead and confuse the authorities.  Detective Lincoln must use his formidable analytical skills to search for the human killer or a vampire running around undetected in the nation's largest City.  He will meet 'The Amazing Crystal', a psychic also coming out of retirement to help the City solve the crime.  Her insights and suggestions from her psychic 'connections' are general in nature but also amazingly accurate.  Is she for real?  The police also discover the same strands of hair at two of the murder sites.  Is this person the murderer or is it another false lead?