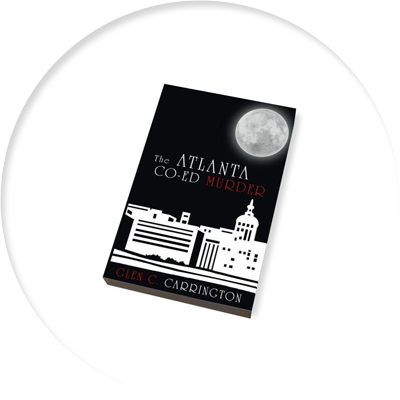 Published:  8/5/2010
Format:  Softcover • Hardcover • E-book
Pages:  338  |  Size:  6×9
ISBN:  978-1-45204-062-2

The Atlanta Co-Ed Murder – Book Two
The Atlanta Co-Ed Murder is a story about who murdered a young attractive middle-class co-ed on a college campus.  The body was discovered by the college security guard who stopped three young men, premiere athletes on the University's top performing sports team, trying to dispose of the remains.  The young men were enrolled in an all-male college and the murdered co-ed was the girlfriend of one of the three 'prima donnas' athletes.  The young lady was a student at the all girl's neighboring college.
The sparks begin to fly early when the male institution takes the preliminary position that the young men are presumed innocent and a former alumnus who has become a major national religious figure takes an interest in the case.  Also, internationally conspicuous legal council is hired to represent the athletes and it appears that a 'male' perspective is dominating the early agenda.
But the opposite point of view is quickly consolidated by a high profile female administrator from the women's college who can match the passion and intellect of her male counterparts.  The City of Atlanta becomes divided in this intellectual and legally charged debate on who's responsible for the murder of Carlita Valencia?  Ms. Valencia's father is a well-known Atlanta attorney working for the law firm of Mr. Franklin Dillard, the renowned Bay Area legal scholar who lost his daughter two years earlier in the infamous Oakland Hills Vodou Murders case.  The individual who solved that mentally challenging case, Detective William Monroe Lincoln, has been hired to help the Atlanta Police department solve this homicide. 
The characters involved are sometimes as flamboyant as the rhetoric and the circumstances and Detective Lincoln must concentrate on the facts presented and not on the continuous ebb and flow of the non-material items which seem to constantly obscure his search for the truth.  When one of the characters consistently exhibits a behavior of physical foreplay in responding to his questions, the detective brings in his formidable friend Lenny who can match pound for pound any physical threat presented.
The case requires Detective Lincoln's analytical skills to be at their best in order to help the victim's parents bring peace to their lives after losing their precious daughter.  The Atlanta Co-Ed Murder once again puts Detective Lincoln…in play!